Smart Weapons Trajectory Simulation
Analysis of Smart Weapons just became easier.
Combines a Time Based Control System Simulation with a 6DOF Body Fixed Trajectory
To go from Dumb to Smart, you:
Start with a standard PRODAS model
Build your Control System Block Diagram with the Drag and Drop Editor
Set parameters for the Control elements (ie Gain)
Select outputs for Strip chart recording
Run the 6DOF Body Fixed Trajectory
Debug and modify the control system using the Editor
It is really just that fast. No more coding and compiling.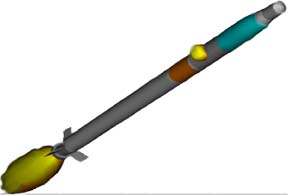 3D Visualization of Side Thruster Firing
&nbsp
&nbsp
Copyright © 1999-2023 Arrow Tech. All rights reserved. Arrow Tech Associates, Inc. (802)865-3460